Autumn 2020
A Christmas Message
Dear Members,
Unfortunately, since March last year we have not had the opportunity to meet together, and we have suffered the loss of three of our members, Joan Wilson, Joyce Johnson and Mabel Dowson. Unfortunately, the numbers attending their funerals were limited, but we are hoping that we will be able to attend their Memorial services in the future. Maureen Ross, a long standing member of the club lost her brother Edwin to Covid, and as he often went on ULLC Outings he was well known by many members of the club. We would like to offer all the grieving families our sympathy, as they have had to undergo their loss at such a difficult time.
As we are now beginning the Season of Advent, I thought that I would take this opportunity to look ahead to better times and wish you all a Happy Christmas. I am very grateful to you all for keeping in touch with one another, and passing on news about members of the club. Carole Tabbron has been particularly helpful in sending a Monthly Newsletter to all members of the club. Both the October and November Quiz she sent tested our knowledge and stimulated quite a bit of discussion. This month she is going to send a jigsaw which one of our members, Jillian Johnson has designed, to remind you of happy times in the past.
Gillian Roche has been in touch with University House to find out whether the following events we have organised for early next year will be able to take place.
The Afternoon tea with The Lord Mayor on 9th February 2021
The Spring Buffet on 11th April 2021
Unfortunately, the staff at University House will not know if this is possible until early next year.
As there is now a vaccine available for Covid , it may be possible that things will improve dramatically, and that we will be able to go ahead with the planned programme, but we will keep you all informed when we find out what is possible.
I hope that you all keep well and can look forward to a Happy Christmas and New Year.
Best wishes to you all
Moira Wallace (President)
December 2020
Dear Ladies,
Welcome to extracts from the December edition of the monthly newsletter. We hope that you all had an enjoyable Christmas despite the restrictions and that you are keeping well and Covid free.
News of members
Sadly, I have to report the death in November of the husband of one of our members.
Rosemary's husband, Bill, died on November 19th surrounded by his family. Unfortunately, because of the Covid pandemic, numbers were restricted at his funeral. A card and message of sympathy on behalf of The University of Leeds Ladies' Club was sent by President Moira who has received a card from Rosemary thanking the Club and saying that the kind thoughts and concern of friends has given her much comfort. She ended by wishing everyone a very Happy Christmas and New Year and is looking forward to seeing everyone again when our meetings resume.
Two members have sent me details of books they have written and details are as below.
From Daxa Patel
Daxa has asked me to let members know about a book she has recently published. This is a collection of articles from her Blog which she started to write after the death of her father in 2014. The book is entitled "My Dad and Me: A journey of loss, love and life. Written by Daxa Manhar Patel." It was published on 11th December, price £10.99 and further details are available direct from Daxa on www.daxapatelmydadandme.co.uk
From Jillian Johnson
As part of Leeds Baroque's fund raising efforts for next season Jillian together with Eileen White (a food historian) have put together a 17th century cook book. With original recipes (taken largely from the Brotherton's Special Collection of Cookery books) and a selection adapted to the modern kitchen (including recipes for the original mince pies!) this has come together as an A5, 67 page, cook book – with lots of period illustrations. Price £7.00 including p & p. All proceeds will go towards funding the Leeds Baroque Spring Recording, details of which will be on the Leeds Baroque web site in due course.
Copies of the book are available for purchase by contacting Leeds Baroque direct on www.leedsbaroque.org or by clicking on this Link and emailing leedsbaroque415@gmail.com with a note of how many copies you would like and an address to send by post.
There is an automated system on the Leeds Baroque web page too – click the donation button (those of a generous disposition are welcome to donate more than £7 if they wish!) and fill in the online order form. Copies will be sent out via second class post (P&P included in the price).
**********
From Gillian Roche, Club Secretary
Reading an article in the latest Art Quarterly about the Welsh art collectors and benefactors, the sisters Gwen and Daisy Davies, reminded me that I had first heard about them in a talk at the Ladies' Club. I checked - which I could do because I have all the programmes going back to 1982 which are due to be deposited in the University Archive when conditions allow - and saw that it was during Mary Donovan's presidency in November 2001.This was the first time that I had heard about these wealthy young women and their amazing foresight in collecting mainly contemporary art in the early 20th century. A substantial number of these works were gifted to the National Museum of Wales - an institution I had actually visited a few years previously when I was in Cardiff with my husband for a rugby international.
For me this talk was one of the most fascinating I have heard at the Club, nor would I forget either those of our members who were Castaway to Music, such as Françoise Logan and Militza Srivastava, who allowed us into their lives.
And, in these days of isolation which I doubt we shall see the back of for several months, would anybody like to give us a talk on Zoom or has a friend or relative who might be persuaded to talk to us? I'm sure that we could set something up fairly easily. Please get in touch with me in the first instance to bring to the Committee.
**********
As you are aware, I am only able to use the information you send me and in these restrictive times I know it is difficult to find things to talk about. As we're not able to do anything or go anywhere there is nothing to report but perhaps you have a favourite book or film, or a visit or outing you have enjoyed in the past, that you would like to share with the members.
Tina Irving has suggested a favourite poem or a favourite joke and has sent me the following "A man was seen on the London Underground teaching his dog to play the trumpet.…he was going from Barking to Tooting!!"
I will be sending out each month's issue on the last day of the month with the next issue on 31st January. If you have any items for inclusion please could you let me have them by no later than 28th of the month so that I have time to make the necessary input.
I hope you have enjoyed reading this newsletter and that the Covid restrictions over Christmas have not placed too great a burden on you all. What strange times we live in!
Now that we are on the brink of a New Year, and with not one but two vaccines in the pipeline, hopefully, ere long, we can all put the difficulties of 2020 behind us.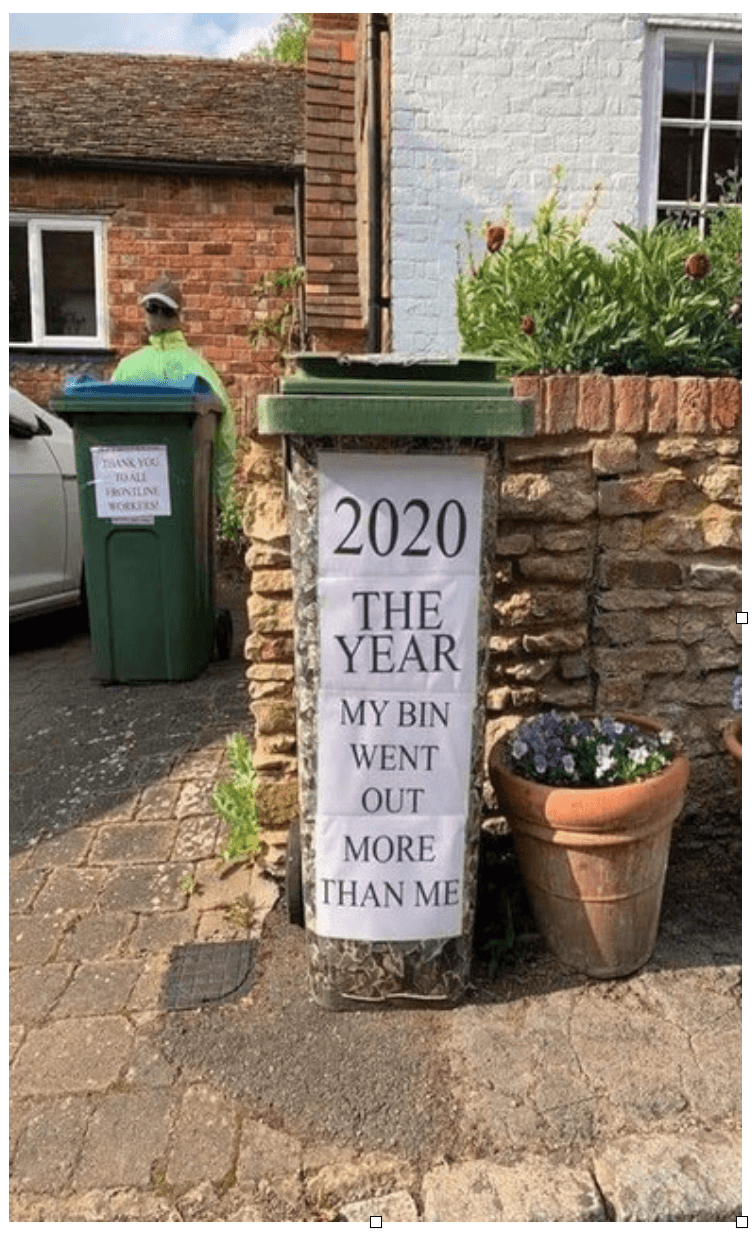 Let us hope that it won't be too long before we can all get out once more and meet again in safety and with confidence. In the meantime I send all my best wishes to you and to your families for good health and happiness in 2021.
Happy New Year!
Carole
30th November 2020
Monthly Newsletter - November 2020
Dear Ladies,
Welcome to extracts from the November edition of the monthly newsletter. We hope it finds you all well and in good spirits, despite all the restrictions.
Thank you to all those members who have sent information for this newsletter and also items for inclusion. I have had several items for this month's issue and hope that you enjoy hearing of and from old friends in this way.
**********
From Jillian Johnson
Early in the month I received an offer from Jillian Johnson to produce a ULLC online Jigsaw. I had never heard of such a thing and didn't know it was possible but I am delighted to say that Jillian has been able to design a jigsaw from a photograph provided by Joanne Fox. This was taken at one of the biennial tea parties held at University House for the Lady Mayoress of Leeds.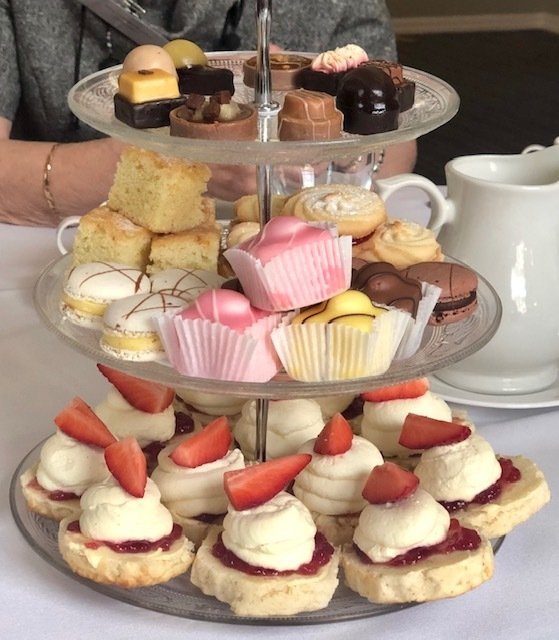 My sincere thanks go to Jillian for all her hard work in producing this jigsaw and for the ingenious idea. My thanks also to Joanne Fox, and to Beverley Kenny at University House, for permission to reproduce the image in this way. I hope you all find it as enjoyable to do as I did.
To access the jigsaw you need to access the link below
https://www.jigsawplanet.com/?rc=play&pid=0fe108029efb
You can either copy that as it stands in the newsletter or add it as a hyperlink to something shorter (e.g. Jigsaw)
The link will take you to the Jigsaw web page where you will see all the pieces scattered about – they make a very satisfying "click" when you fit them together. The programme also times how long it takes you to finish the puzzle. I hope you all find it as enjoyable to do as I did. I have done it several times now and my time is getting better!
From Margaret Southworth:
During some recent loft clearing, I sidelined into looking through old photographs and wondered if either of these from 1969 might be of interest to some members.
The first is a snapshot of Gill Lydon, Heather Harrison, Joanne Fox and I sitting illicitly on a car outside the Parkinson Building. The second picture shows Joanne and I with the 'new' science block taking shape in the background. Leeds was certainly a developing campus in those days.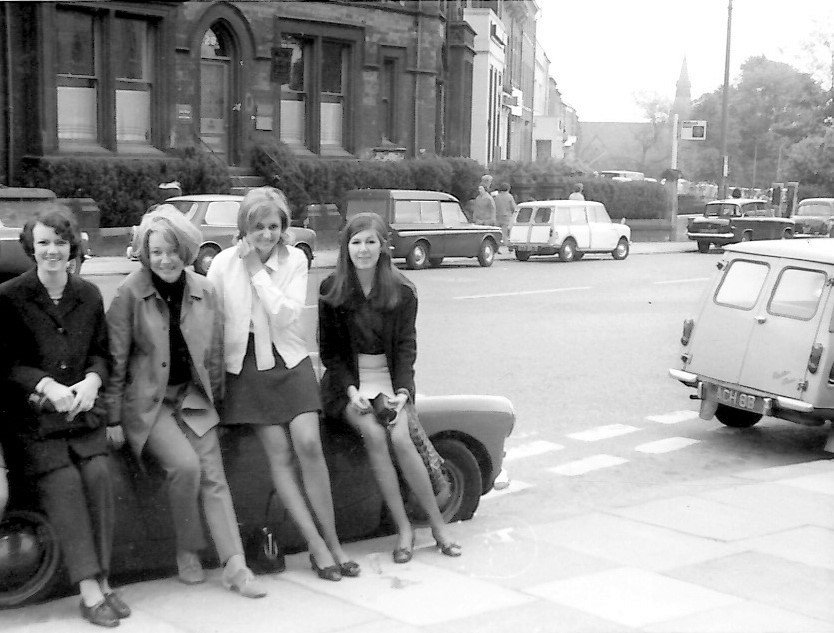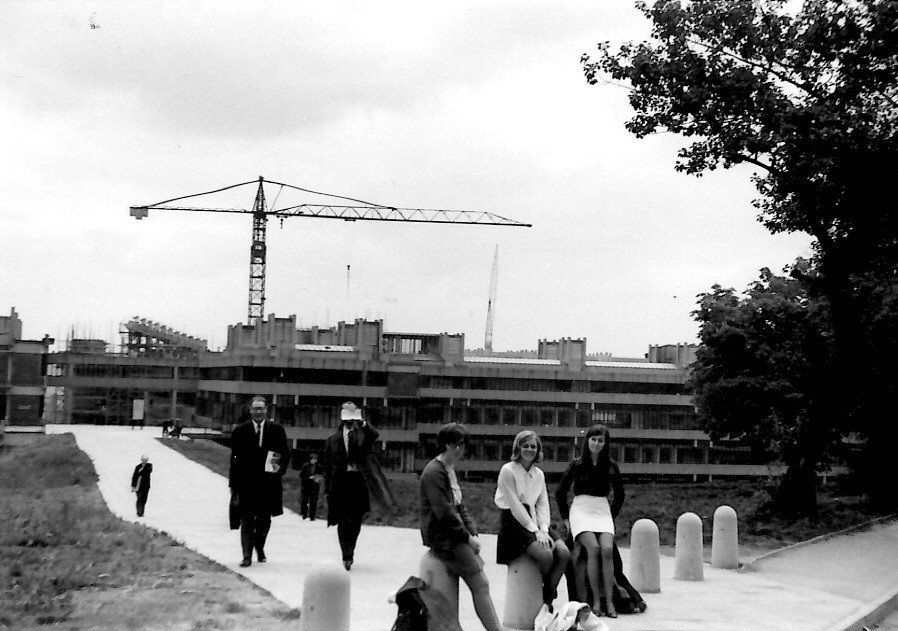 I have a lasting memory of 1968, when returning to my room in the relatively new Henry Price Building for pre-finals work, I watched as the Victorian Cemetery outside my window was rapidly demolished, with little respect for the contents. What a gruesome memory, but at the time a fascinating distraction from the revision work in hand!
Best Wishes to all the Ladies Club members.
Margaret Southworth (The outreach member from Co. Durham!)
Post script from Joanne Fox: I don't regard our sitting on the car as really "illicit" Meg. I seem to remember it belonged to another university student of our acquaintance, who later became your brother-in-law!

From Diana Wetherill:
Greetings everyone. I hope you are keeping well. Apart from missing family and friends, I have missed all my "cultural" activities. I hadn't realised how many I had until they were no longer there – going to Opera North, Northern Ballet, Huddersfield Choral Society concerts, Arts Society Lectures.
However, in October I managed to get to a performance by Northern Ballet at the Playhouse. They performed 3 different programmes over 3 nights and I bought 2 tickets for the "Classical" evening. At the last minute, my friend Sheila couldn't come unfortunately so my son came with me instead. He found it an "interesting experience"; I really enjoyed it as it is a change for N. Ballet to perform from the classical repertoire.
University of Leeds Ladies' Club
Monthly Newsletter - September 2020
Dear Ladies,
Welcome to the first newsletter of this academic session. We hope it finds you all well and keeping Covid free, even if rather frustrated at the restrictions on normal life.
With the restrictions going on for so long, and now due to continue until the spring, we are all feeling the loss of personal social contact with friends and family. Accordingly, the committee has been thinking of ways to keep in touch with everyone and to let members have news that they would otherwise miss. One of the ways we discussed at our last, virtual, meeting was the idea of sending out a monthly newsletter at the end of each month. We decided to start the newsletters with effect from the end of September and we hope that you will find this first issue of interest.
********
Sadly, we are not able to offer our normal programme of events this term as both University House and Devonshire Hall are closed to any external bookings for the term. Because of these closures we were not to be able to hold the Harvest Lunch in September, an event which is so popular with everyone, and have had to cancel also the Christmas Coffee morning in December, another very popular event. In addition, we have had to postpone two afternoon talks which we had arranged for October and November. These have not been cancelled as such, just merely postponed until the situation becomes clearer. Watch this space!
The good news is that we have been able to make some provisional bookings for the Spring Term (Covid permitting!).
Dates for your diary (so far) for 2021 are as follows:
Tuesday 9th February at University House - Tea with the Lord Mayor. This year the Lord Mayor (who is a lady), and whom we met at the Civic Hall in the spring, is continuing in her role for another year and has accepted our invitation to tea at University House.
Sunday 11th or Sunday 18th April (date to be agreed) at University House - Carvery Sunday Lunch.
If we find that we are able to book any further meetings we will let you know as soon as possible.
********
As you will be aware, at the (virtual) Annual General Meeting, a new committee was confirmed and we would like send our gratitude to the outgoing members of the committee for all their hard work and support. We thank especially Christine Roy, who has worked tirelessly as Honorary Treasurer for several years and Gillie Andrews for taking the minutes of our meetings and making sure that a full and accurate record was made of all that was said and agreed.
We would like to welcome two new committee members, Candace (Candy) Arbor and Jean Williams, who are joining the committee for the first time. We would like also to thank existing members, Angie Robinson, who is once again taking on the role of Honorary Treasurer and Diana Wetherill for agreeing to take over the role of Minutes Secretary. This will be a strange year for everyone and we wish you well in your new roles.
********
Sadly, we have to report the death of former Club Secretary and long-term member of the committee, Joan Wilson. Joan had been very ill for several months and sadly passed away last week. She was a much valued member of the committee for a number of years and we send our sincere condolences to all her family.
As this is the first issue of the newsletter, we have only been able to use what information we had to date but if you have any news or items you think will be of interest to the membership please let me know. Items for inclusion could be as varied as, news of other members, upcoming birthdays, reports of any interesting things that you have done, any visits you may have made, either virtually or in person, or any handy hints for making the current restrictions a little less onerous. As I will be sending out each month's issue on the last day of the month please could you let me have any items for inclusion by no later than 28th of the month so that I have time to make the necessary entries. You will find my email address and phone number on the letter sent to you by email.
I hope you have enjoyed reading this newsletter and will look forward to hearing from you with any news or items you would like me to incorporate in next month's issue.
In the meantime, I send my good wishes to all and hope that it will not be too long before we are able to meet again in person.
Carole Tabbron