Summer 2019
PRESIDENT'S MESSAGE
This year has flown by and already we are looking towards the next season of the Ladies' Club. But before that, we hopefully have an enjoyable summer ahead of us. So far this year we have taken tea with the Lady Mayoress, had an interesting and instructive day at the School of Medicine and been inspired by the talk by Johnny Hayes MBE on his work helping independent shops in York. We still have the Carvery Lunch to come and we look forward to welcoming the Chancellor, Dame Jane Francis, to the event.
Our Summer Outing this year is on Wednesday 22nd May to Brodsworth Hall and Gardens near Doncaster, which is a property in the care of English Heritage. There is a booking form to accompany this programme and you will see that if you are an English Heritage member, the cost is significantly reduced. Do not forget your membership card! We have deliberately arranged for this day to be less busy than on other occasions and so we will start a little later when the traffic may be lighter. We hope for fine weather but do bring umbrellas if wet as the gardens should not be missed.
Originally the Garden Party was planned to be at my house but the Committee felt that transport would prove to be difficult for some, so Mrs Gill Lydon has very kindly agreed to host the Garden Party at her home this year in my stead. It will be on the original date of Tuesday 11th June. I am sure it will be as successful as on previous occasions and I hope there will be plenty of support – and sunshine!
The AGM will be at Devonshire Hall on Wednesday 26th June. At this event I will be handing over to our next President. The Committee very kindly asked me to serve a second year but, for personal reasons, I have decided to decline. However I am delighted to say that Mrs Moira Wallace has been persuaded to be President again next year. The Officers have agreed to continue in their current positions but, as always, we would be delighted to have new faces on the Committee. Why not volunteer?
I have thoroughly enjoyed my year as your President and having the chance to get to know members better and I am very grateful for the support I have received from the Committee and Officers. Thank you to you all and I hope you have an enjoyable and relaxing Summer.
Diana Wetherill, President
April 2019
Summer Outing to Brodsworth Hall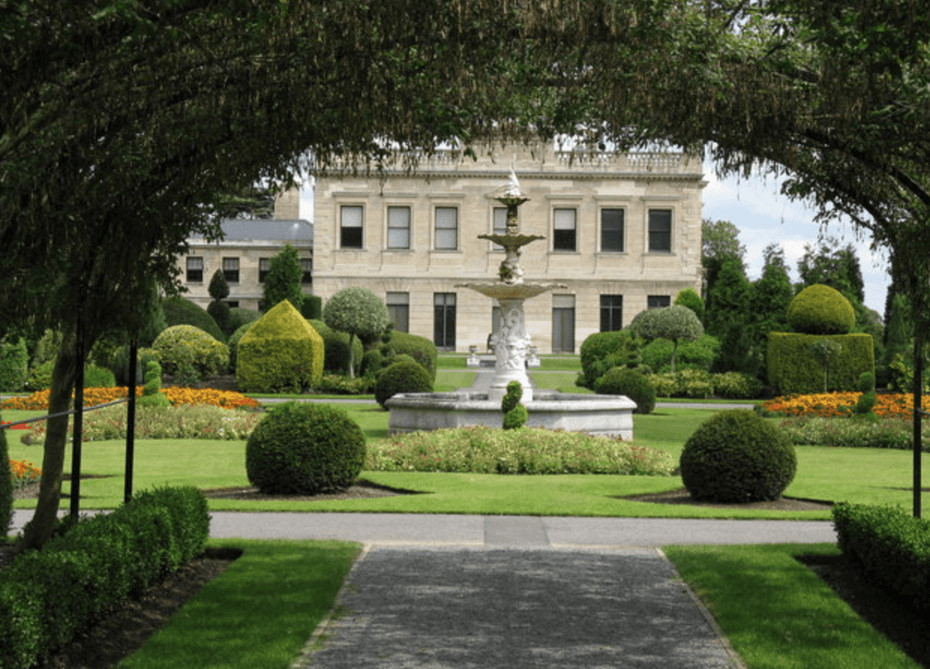 For details of this event please see below the Programme
on this page.
Wednesday 22nd May 9.30am prompt
Coach leaves at 9.30am from St Chad's Car Park,
Otley Road, Far Headingley, Leeds LS16 5JT
Return 5.30pm approx
Please see separate booking form for details
RSVP by 14th May (TOGETHER WITH YOUR
PAYMENT)
to Mrs Gillian Roche
Guests welcome £30/£21
**************************************************
Garden Party
Tuesday 11th June 2.00 - 4.00pm
At the home of Mrs Gill Lydon, 1 Alderhill Cottages,
Stonegate Road, Leeds LS6 4JH
RSVP by 4th June to Dr Margaret Wilkinson,
email mfwilk21@gmail.com
Members only No charge
**************************************************
Annual General Meeting
Wednesday 26th June 2pm for 2.30pm
in the Fenton Room, Devonshire Hall
RSVP by 19th June to Mrs Gillian Roche as above
Wednesday 22nd May 2019 9. 30am - approx 5.30pm
ULLC Summer outing to Brodsworth Hall
Google: Brodsworth House and Gardens Things to do English Heritage.
For our summer outing this year, we have arranged a visit to Brodsworth Hall and Gardens near Doncaster, a part of Yorkshire with which some of us may not be so familiar.
Brodsworth Hall was built by the very wealthy Charles Thellusson in the 1860s, "to create a country seat suitable for his position among Yorkshire's landed classes". The finest materials were used and the family continued to live there until 1988, when English Heritage took possession. By now, time and a diminishing income had created an air of faded grandeur, which E.H. decided to conserve rather than restore to its former glory. The gardens, however, have been immaculately restored and are worth a visit alone.
We will have the opportunity to have a short private tour of some rooms limited to 20 persons and also a simultaneous tour of the gardens after morning coffee, before the house is open to the public at 1.00pm. Everyone will be able to look round the house and gardens after lunch in their own time.
We have planned this Outing to be fairly relaxed and there will be time to sit and chat as well as admire the property. Let us hope for fine weather.
The cost of the outing (which includes coffee, lunch and gratuities but not car parking) is £30.00 or £21.00 for members of English Heritage. Please note that you must have your membership card with you on the day to claim free entry and the discount of £9.00, otherwise you will be charged the full price.
Plan of the day
9:15am Members and guests meet at St Chad's Parish Centre. Parking (by the wall by the Parish Centre) now costs £2 per car and so we would advise car-sharing where possible.
9:30am Coach departs
10:45am Coffee and pastries on arrival
11:30am Tours of the House and Gardens simultaneously, finishing at 12:30pm
12:30pm Sandwich lunch
1:30 pm approx Free time to look round house and gardens, visit café and shop etc
4:00 pm approx Coach leaves for Leeds (expected back at 5:30pm)
To book for the outing please fill in the form below, detach it and return it with your cheque to
Mrs Gillian Roche, Flat 3, The Grange, Otley Road, Leeds LS16 6EY
The number of places is limited and so we advise early booking Closing date 14th May
-----------------------------------------------------------------------------------------------------------------------
Please reserve me …….. places at £30.00 and ……places at £21.00 on the Ladies' Club outing to
Brodsworth Hall
Name ……………………………………………………..
Tel …………. …… Mobile …………………… (for possible emergencies on the day)
Name(s) of guests: ……………………………………..
I am/am not a member of English Heritage (please delete as appropriate)
I/we would like tour of house/garden tour/ no tour (please circle preference)
I enclose a cheque for £……. made payable to the University of Leeds Ladies' Club
Please advise us if you have any dietary requirements
Members only No charge