Summer 2022
Message from the President.
As the continuing President, I would like to express my thanks to all those members who voted for me to continue in that role. I am touched by your decision and I will do my best to justify your faith in me in the coming year.
I have written a separate Review of the past year and a look ahead to the new year. You will find it attached to the email accompanying this newsletter. Attached to the email also you will find a draft version of the proposed amendments to the Club constitution as discussed at the AGM which has been sent to me by the Club Secretary, Gillian Roche.
I hope that you enjoy reading both extra items and if you have any comments on the proposed changes to the constitution, please let myself or Gillian Roche know as soon as possible.
Monthly Newsletter - August 2022
Dear Ladies,
Welcome to the August edition of the newsletter. Forthcoming Events are as follows: -
An informal Coffee Morning will be held at the Lawnswood Arms Hotel at 10.30am on Tuesday 13th September.
As usual, this will be a 'drop-in' session for which there is no charge. Coffee/Tea and other drinks are available to purchase and for those who wish to stay on and have lunch afterwards this also can be purchased, again at own cost.
Further coffee mornings have been booked for Tuesday 11th October, Tuesday 8th November and Tuesday 6th December so do, please, put these dates in your diary.
Harvest Lunch
The traditional Harvest Lunch will be held at the Headingley Golf Club on Wednesday 21st September at 12.30pm for 1.00pm.
Details of the event are shown on the Flyer and booking form attached to the covering email for this newsletter.
.
A coffee morning will be held at the Lawnswood Arms Hotel at 10.30am on Tuesday 9th August.
As usual, this will be a 'drop-in' session for which there is no charge. Coffee/Tea and other drinks are available to purchase and for those who wish to stay on and have lunch afterwards this also can be purchased, again at own cost.
For those who do not know the Lawnswood, it is a very friendly and welcoming Pub/Restaurant and we will have sole use of one section of the dining room. There are no steps to this section of the dining room. There is plenty of parking with a number of blue badge spaces.
As this has proved to be such a popular event in the ULLC calendar we have booked an additional date on Tuesday 13th September. Do please put this date in your diary.
News of Members
I haven't had any new reports about members' illness this month, which is very good news indeed.
I hope that all those who are recuperating from illness or surgery are continuing to make good progress in their recovery and can look forward to a speedy return to normal life.
******
Reports from the Groups
Book Group II – August Meeting - Thursday 25th August 2022
This month's book was The Talented Mr Ripley by Patricia Highsmith. We managed a fruitful discussion of the book regardless of the fact that no one actually introduced it. The one thing the whole group agreed on was that it is not the best book they have ever read. We also agreed that, apart from Ripley himself, all the other characters were mere sketches. That meant that most of us thought we had no liking or empathy with any of the characters although some of us admitted to a sneaking sympathy for Ripley in a few places. Other than that, there was a considerable amount of disagreement. Some disliked the book on what really amounted to moral or ethical grounds; some found the whole thing totally implausible. On the other hand, some appreciated the idea of an anti-hero such as Ripley and even had some comprehension of his notion of self-entitlement. The same people tended to think that Highsmith had constructed a well-crafted if somewhat convoluted plot. Again, while some admired Highsmith's style, others thought it was poorly written. I'm not sure whether there was joy or horror when Candy revealed that she had been given a gift of the rest of the Ripley books but I have borrowed the 2nd in the series to read.
I was sorry to have missed the July discussion of The Hungry Tide by Amitar Ghosh and many thanks to Jean for circulating notes on that discussion.
We were sorry that Carole could not join us this time.
Many thanks to Candy for hosting us and for the superb cakes and tea, all served in bone china….as befits the ULLC!
I see that in June we suggested the sharing of titles of other books we have read and would recommend, even if not read as a group. Perhaps we could do this in September and the September book is The Moonflower Murders by Anthony Horowitz, if other members of ULLC wish to read it also.
Christine Roy
******
The 'Informal' Cinema Group
The 'Senior Screenings' at the Cottage Road Cinema are recommencing in September. To date I have heard of only two screenings in September and they are as follows:
Thursday 1st September – 'Good Luck to You, Leo Grande' starring Emma Thompson.
Thursday 8th September – 'E.T, The Extra-Terrestrial' – the Oscar winning film by Steven Spielberg.
I'm sorry about the short notice for the film on 1st September but I have only just received the information from the cinema. Sadly, I'm not able to attend either screening but I hope that those who are able to attend will enjoy the different films and I will let you know when I hear about any other films in the 'senior screenings' category.
Words of the Month
Okimono - A Japanese term meaning "ornament for display; objet d'art; decorative object".
Interoception - An awareness of the inside of the body.
Sennachie - A professional storyteller of genealogy, history and legend.
Inspissate - To thicken, as by evaporation.
******
July Newsletter
Reports from the Groups
The Garden Group meeting in July saw the resumption of the annual Garden Pursuits event at the home of Janet and Barry Herbert.
The weather was kind to us, and croquet was played on the lawn, thanks to Barry yet again taking the players through the rules of the game. The garden was a delightful backdrop to gentle wanderings and conversation over refreshing drinks, before going indoors for a delicious tea. We were treated to a variety of sandwiches, scones and cake, shared with our President, Carole, who was invited to join us for the afternoon. Many thanks go to Janet and Barry for their generous hospitality and considerable efforts to make the meeting a high point in the Garden Group calendar.
Heather Harrison
Book Group II – June Meeting
As Book Group II meet on the last Thursday of each month, it was not possible to include the following report in the June Newsletter. The report of their meeting on 28th July will be featured in the August newsletter.
A thoroughly enjoyable discussion of June's book, The Beginning of Spring by Penelope Fitzgerald was held at Jean William's home.
This was due in good part to the interesting introduction to the novel by Jennifer, including fascinating facts about the life of Fitzgerald. The fact that she had spent so little time in Moscow (as with Amor Towles, the author of A Gentleman in Moscow) seems to contradict the advice often given to aspiring novelists to write about what you know. We all admired the density of the writing which seemed to encapsulate the details of life in Moscow between the revolutions of 1905 and 1917. We liked the mystery of whether certain characters were or were not aspiring revolutionaries. The constant references to the beginning of the brief spring season were used effectively as a metaphor for the beginning of change in Russia. We thought the characterisation was brilliantly done with a good use of humour. It may be a short novel but we were able to discuss at length and still only touched on parts of it.
We were a small group of only 5 this time as Carole and Anne had given their apologies and Val was slightly unwell.
Many thanks to Jean for hosting us.
Chris Roy
The 'Informal' Cinema Group
At the AGM in June it was decided to explore the possibility of 'informal' Cinema visits, in particular to the 'Senior Sessions' at the Cottage Road cinema. These take place on most Thursday afternoons and we decided that the first such visit should be held on Thursday 21st July. 12 members attended and I am very grateful to Valerie Wood-Robinson for the following report.
Thoughts on the film 'The Railway Children Return'
Thank you to Carole for organising the first of the ULLC cinema visits to The Cottage Road Senior afternoon showing of The Railway Children Return.
The film is set in 1944 and centres on three siblings evacuated from Manchester to the Yorkshire countryside, and their interaction with a young American soldier from a nearby US base. The children are billeted with an elderly grandmother and her village headmistress daughter, the former played by Jenny Agutter reprising her role as Bobbie from the original Railway Children film set nearly half a century previously. The house is immediately recognisable as the Bronte Parsonage, at least for the exterior scenes, and the streets as those of Haworth.
I especially enjoyed the film as it evoked my memories of 1944 with several parallel experiences. I too was evacuated from a city to a more rural environment. Nearby in Cheltenham was the HQ of the U.S. War Office in Britain (at the premises now occupied by GCHQ) with American soldiers.
One of my earliest memories is of one of these soldiers giving me a bar of chocolate, coincidentally at the railway station.
This anecdote points up an anomaly in the film. On their train journey to escape the bombing of Manchester the children are snacking on bars of chocolate which Lily, the oldest girl, produces from her bag. I should think that chocolate was no more available in 1944 Manchester than it was for me in London! Another linguistic anomaly was that the evacuees addressed the adults by their first names. In reality it would have been Mr. and Mrs. or on becoming more familiar, Auntie and Uncle. Maybe it was directorial policy not to use period language in order to make the story and characters more accessible to a modern audience.
Despite these anomalies the film is very entertaining and sensitively moralistic, not the least due to the very accomplished child actors and old stagers
Valerie Wood-Robinson
Words of the Month.
I am indebted to Gillian Roche for this month's words and also the information about how to recycle used blister packs
Haptic Relating to the sense of touch
Oneiroscopy Interpretation or study of dreams
Serac Ridge of ice on the surface of a glacier. (Good for Wordle!)
Canicular Sultry/relating to the dog days of summer
And in the Green Corner ….
If you want to burnish your green credentials and you don't know whether or how to recycle your empty medicine blister packs fear not! Superdrug is now accepting them, with donations being made to Marie Curie. But only in Superdrug stores with a pharmacy. So not Headingley but the store in the Merrion Centre takes them. (The pharmacy is at the back of the store on the left.)
Gillian Roche
********
I hope you have enjoyed reading this newsletter. The next newsletter will be sent out on 31st August. If you have any items for inclusion please could you let me have them by no later than 28th August.
Take Care and Keep Safe
Carole
Message from President Carole as of 17 July 2022
Those members who attended the AGM on 22nd June may recall that a suggestion was made that we should start some, very informal, visits to the cinema. We discussed the regular 'Senior Sessions' at the Cottage Road Cinema on Thursday afternoons and it was agreed that we would try this out for one of their forthcoming new films. For those who have not been to a 'Senior Session', the screening starts at 2pm. Seating for this session is not allocated but I am assured that we should have no difficulty in being able to sit together, however many of us there are! Tickets are available from the box office on the day, or online on the Cottage Road website, (cottageroad.co.uk) at a discounted cost of £6 to include a cup of tea.
Accordingly, we are suggesting that, for our first venture, we meet up this coming Thursday, 21st July, to see 'The Railway Children Return'. This was described in one of the papers as both a sequel, albeit set during the second world war, and an affectionate homage to the original. The review went on to say that the film is set against the same Yorkshire backdrop as the 1970 classic and, with a little nod to modern sensibilities, is a well crafted and really enjoyable family film.
The weather forecast for Thursday is for good weather with pleasant temperatures and nothing like those forecast for the next two days. If you are interested in attending may I suggest that we all meet up at the entrance to the Cottage Road Cinema at 1.45pm to allow us time to buy our tickets and any refreshments we may require and to have our free cup of tea. We can then all sit together in the auditorium.
I will be there and I am looking forward to seeing as many members as possible for what is a very new addition to the ULLC calendar but promises to be an enjoyable afternoon.
In the meantime stay cool and safe in the extreme weather of the next few days,
Take care,
Carole
Tuesday 12th July at 10.30 am at the Lawnswood Pub/Restaurant, Otley Road, Adel.
The next event scheduled over the summer is another Informal coffee morning at the Lawnswood Arms Hotel on Otley Road.
As usual, this will be a 'drop-in' session for which there is no charge. Coffee/Tea and other drinks are available to purchase and for those who wish to stay on and have lunch afterwards this also can be purchased, again at own cost.
For those who do not know the Lawnswood, it is a very friendly and welcoming Pub/Restaurant and we will have sole use of one section of the dining room. There are no steps to this section of the dining room. There is plenty of parking with a number of blue badge spaces.
As this is such a popular event in the calendar we have booked additional dates for coffee mornings on Tuesday 9th August and Tuesday 13th September. Do please put these dates in your diary.
In the August newsletter we hope to have more details of other events we have managed to arrange for the rest of the Autumn term so do watch out for the newsletter in your inbox. A Harvest Lunch is being planned....
********
Words of the Month.
Charette - Intense work to complete a task before its deadline
Yaffle - A green woodpecker
Lappet - The flap of a garment or headdress
Integument - A skin, shell or rind
********
I hope you have enjoyed reading this newsletter. The next newsletter will be sent out on 31st July If you have any items for inclusion please could you let me have them by no later than 28th July.
Take Care and Keep Safe
Carole
University of Leeds Ladies' Club
President's Remarks and Review of the Year 2021/22
Ladies,
After hearing from the various officers and the convenors of all the groups at the AGM, it is very gratifying to know that the Ladies' Club is running so successfully and is continuing to offer friendship and enjoyable times for all the members. Especially after two such fraught years with the Covid pandemic.
Up until the beginning of 2020 we were very happily enjoying our usual regular meetings at Devonshire Hall and University House, plus our annual departmental visits and outings to places of interest. Then, on 23rd March 2020 all normal life changed and we had to change with it. For the best part of 18 months, we were unable to meet in person but, happily, in Summer 2021 we entered the 'Post-Covid' era, the 'New Normal' as it were, but how things had changed.
We were no longer able to hold our meetings and lunches in the University as the University Authorities had made their priorities the safety and well-being of the student population – an understandable decision on their part but a very difficult one for us as a group.
After being locked away for so long we felt that members would value a more social and informal interaction for the first few meetings and thankfully the Lawnswood Arms were able to offer us their facilities. In September 2021, we started the first of what has proved to be a most popular 'Drop-In' Coffee morning. So popular that we have held a session every month since September and have booked further sessions up until September this year.
However, the Lawnswood isn't really a suitable venue for holding talks and lunches and so we looked around for another venue. For various reasons, not least that of costs, we managed to book space at the Headingley Golf Club and we have now held several successful talks there. Heather Harrison gave her excellent talk on Chocolate in January, together with samples, and in March, Professor Joyce Hill gave us a most interesting talk on the Vale of York Hoard. In addition, we were able to hold an inaugural Christmas Lunch, the Annual Spring Carvery Lunch and, to honour the Platinum Jubilee of Her Majesty the Queen we held a 'Sparkling' Jubilee afternoon, together with the now obligatory Marmalade Sandwiches...for later!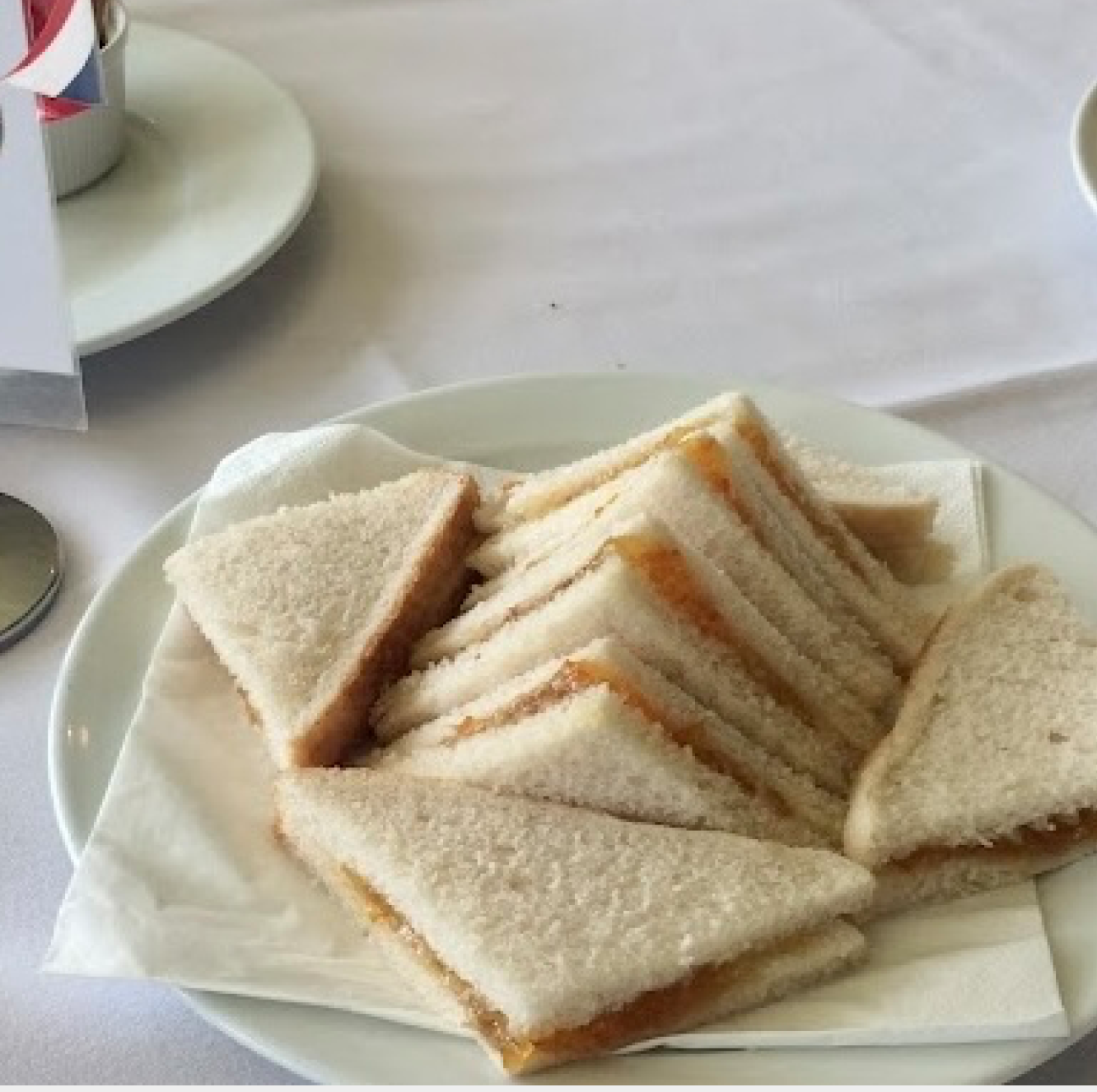 As it stands there are still difficulties in getting agreement from the University to hold events on University premises, in particular at an affordable cost, but we keep on trying. I know that many members feel, as I do, that as a University Society, we should hold at least some of our meetings at the University and it is our intention to do so, just as soon as that becomes possible.
In the meantime, I know from your feedback that many members are very happy to continue with events both at the Lawnswood and the Headingley Golf Club and it is our intention to continue to do that until there is a change in University Policy.
All in all, this has been a difficult year to negotiate and things have certainly changed since the last time I was President in 2017. However, whilst I may be the President, I am acutely aware that no one does this job by themselves and I would like to extend my thanks to all the committee for their support, hard work and commitment through the year. My thanks also to all the group Convenors for keeping everyone in touch and for hosting meetings of their groups.
So, that has been our year and, after all these odd times we have lived through, hopefully, we are now able to look forward to the coming academic session.
The 'Drop-In' Coffee Mornings will continue, a second Christmas Lunch is planned together with further talks and possible outings. The monthly Newsletter will continue as will the Quizzes and I would like to take this opportunity to thank everyone who has contributed to either the newsletter or the quizzes and in some cases to both, especially those members who have contributed their own quizzes or ideas for questions.
Finally, I would like to extend my thanks to all of you, the members of the Ladies' Club, for your support of the Club not just this year but through all the years.
I have thoroughly enjoyed my year as President and your kindness, support and friendship has meant a great deal to me.
With my thanks once again and my best wishes for a safe and enjoyable summer.
Carole Tabbron
News of Members.
I haven't heard any news of any members' illnesses and I hope that this means that everyone is keeping well and looking forward to the better weather and the Jubilee weekend festivities.
Wednesday 8th June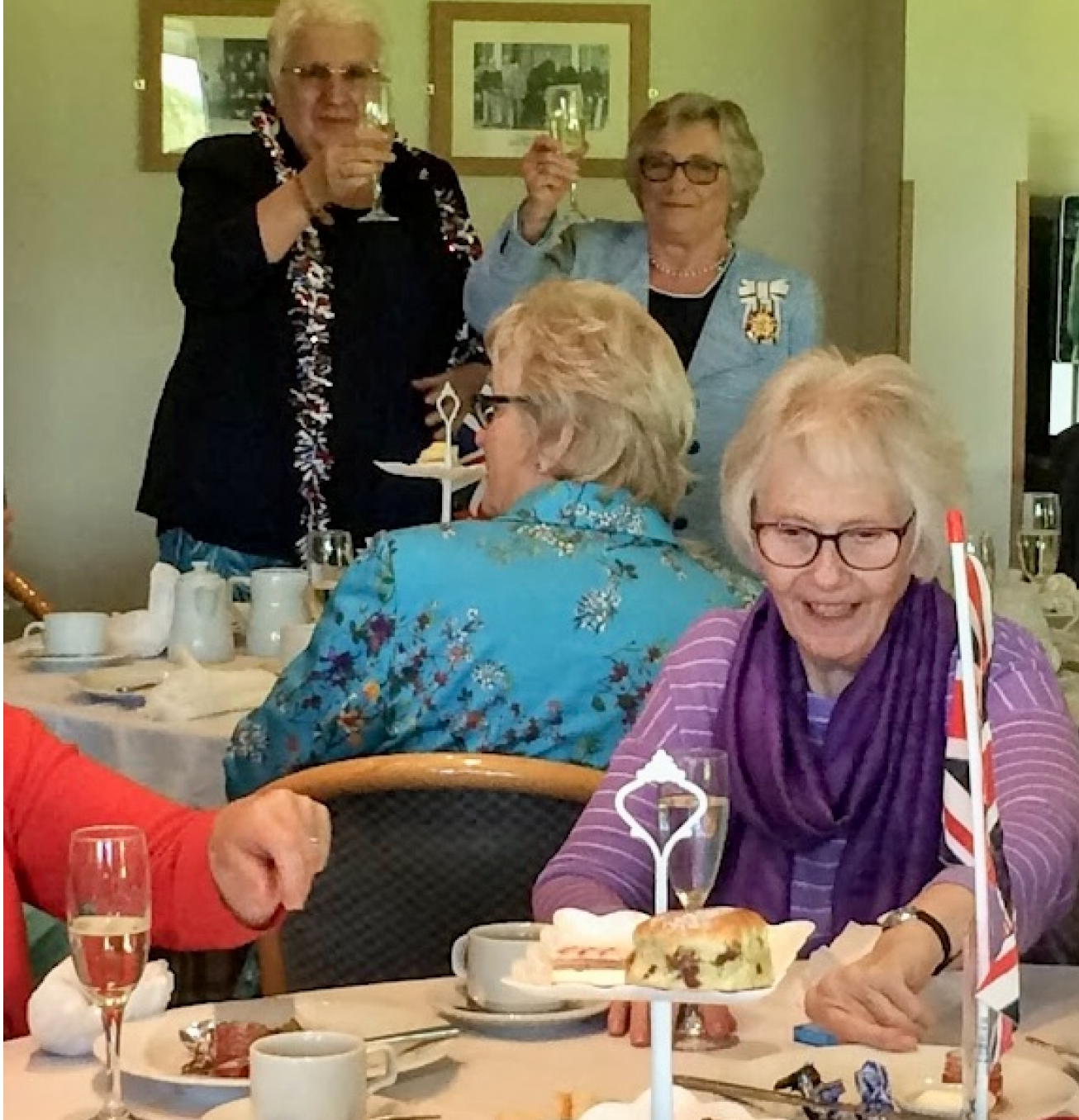 'Sparkling' Jubilee Afternoon Tea.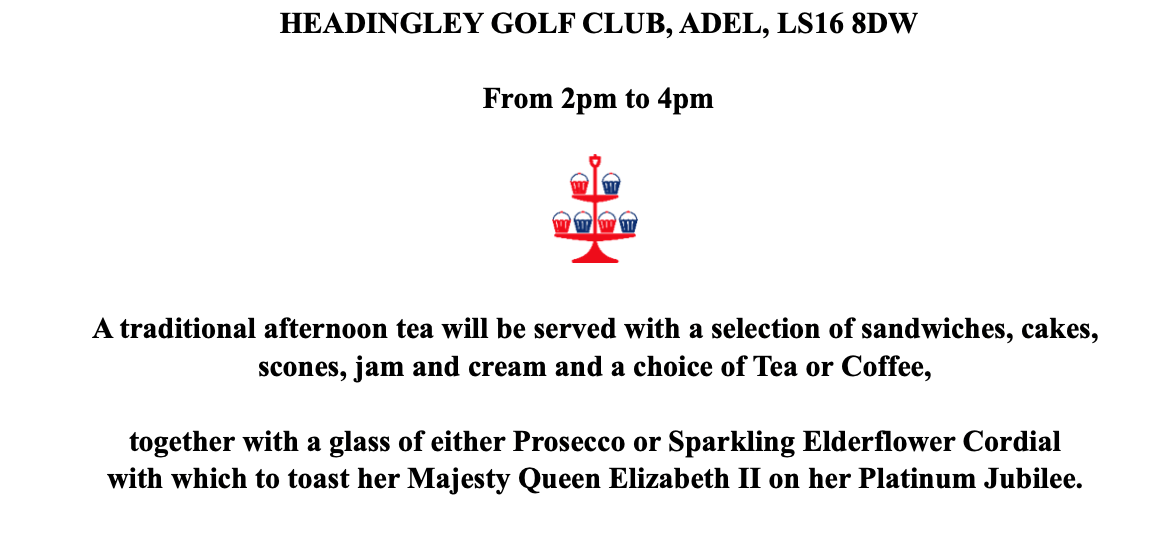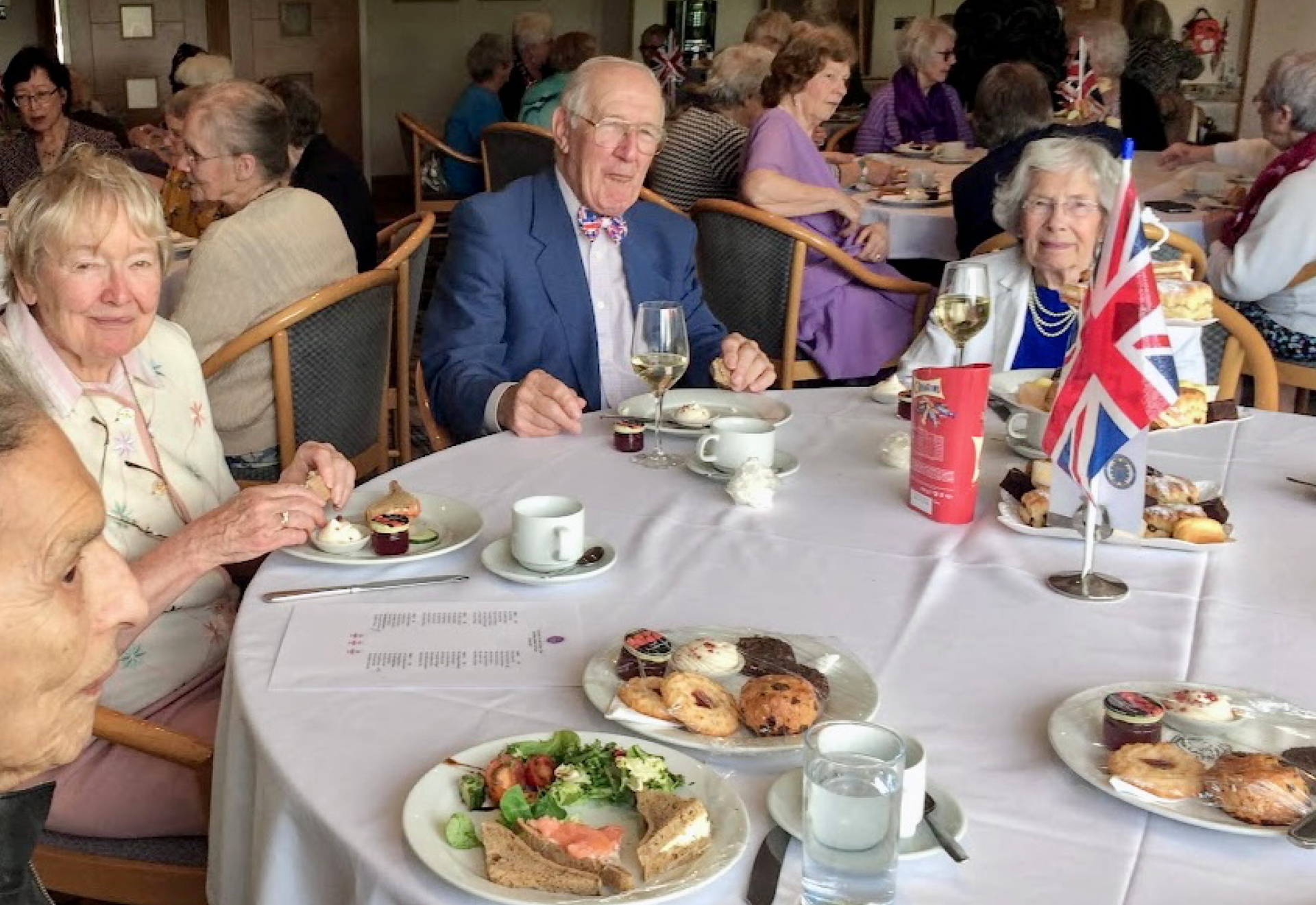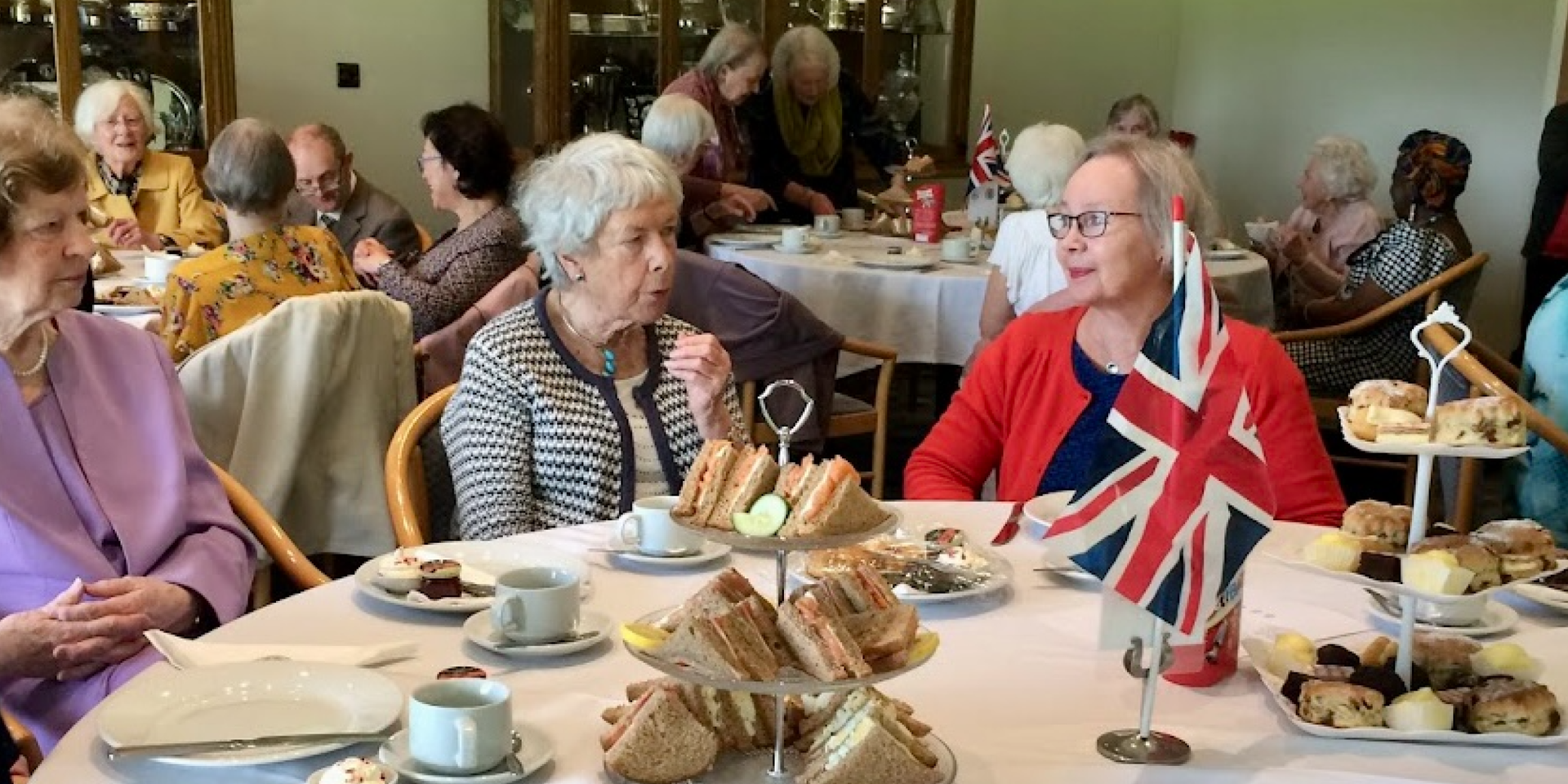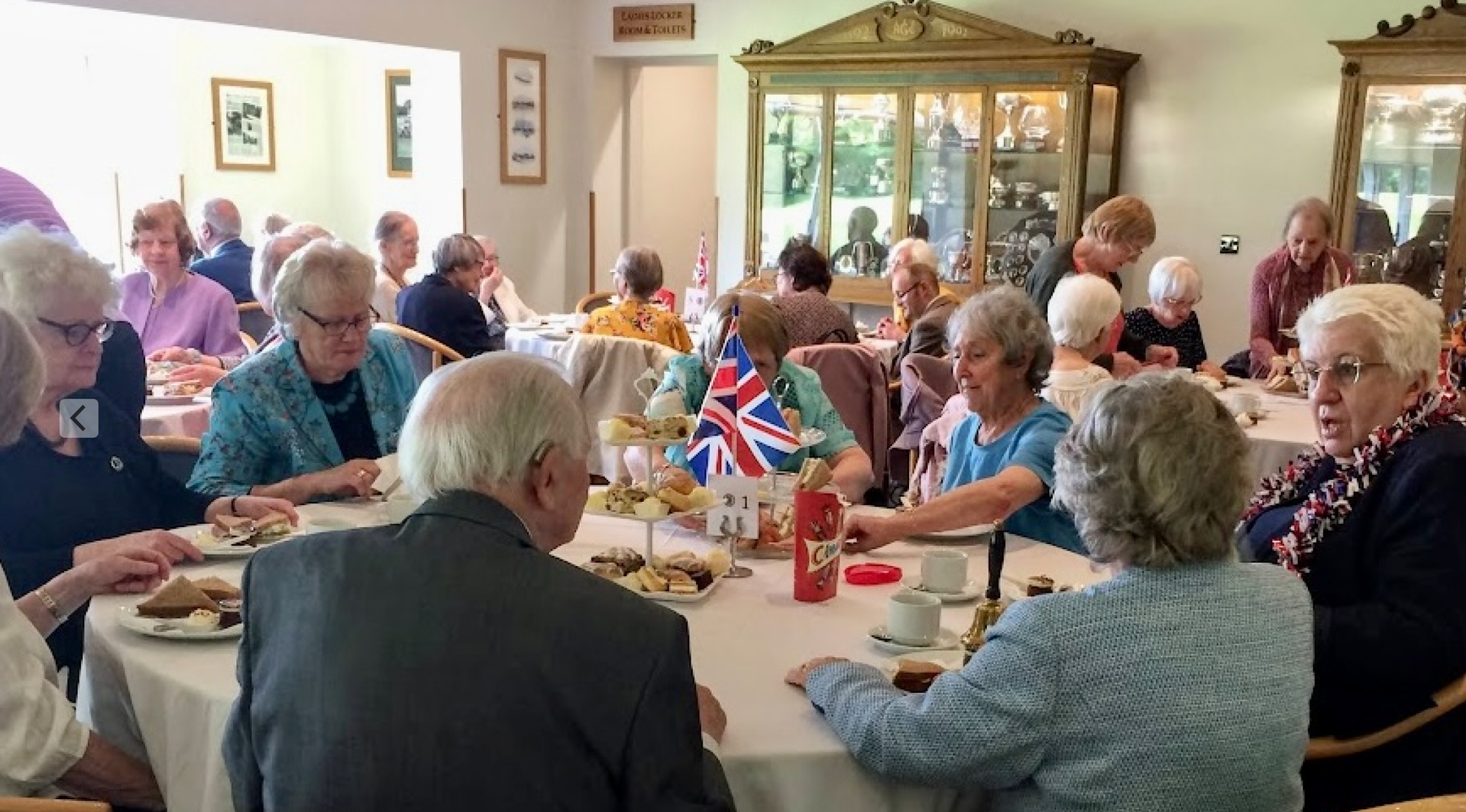 All members will have been advised that the 'Sparkling' Jubilee Afternoon Tea due to be held on Wednesday 1st June has had to be postponed to Wednesday 8th June. The date has had to be changed because of staff shortages at the Headingley Golf Club which I am assured was not Covid related. Therefore, they were unable to commit to hosting a large gathering on 1st June with a full complement of staff.
Several members have found that, with the change of date, they are now unable to attend but this number has been matched by members who have found that they are now able to attend.
I hope that this change of date has not caused too much inconvenience and that we all have a most enjoyable if belated afternoon.
And behold! It did indeed prove a wonderful afternoon, as evidenced in the pictures above.
Now, to refer back to our Home Page Jubilee Pageant Flag, here it is in greater detail: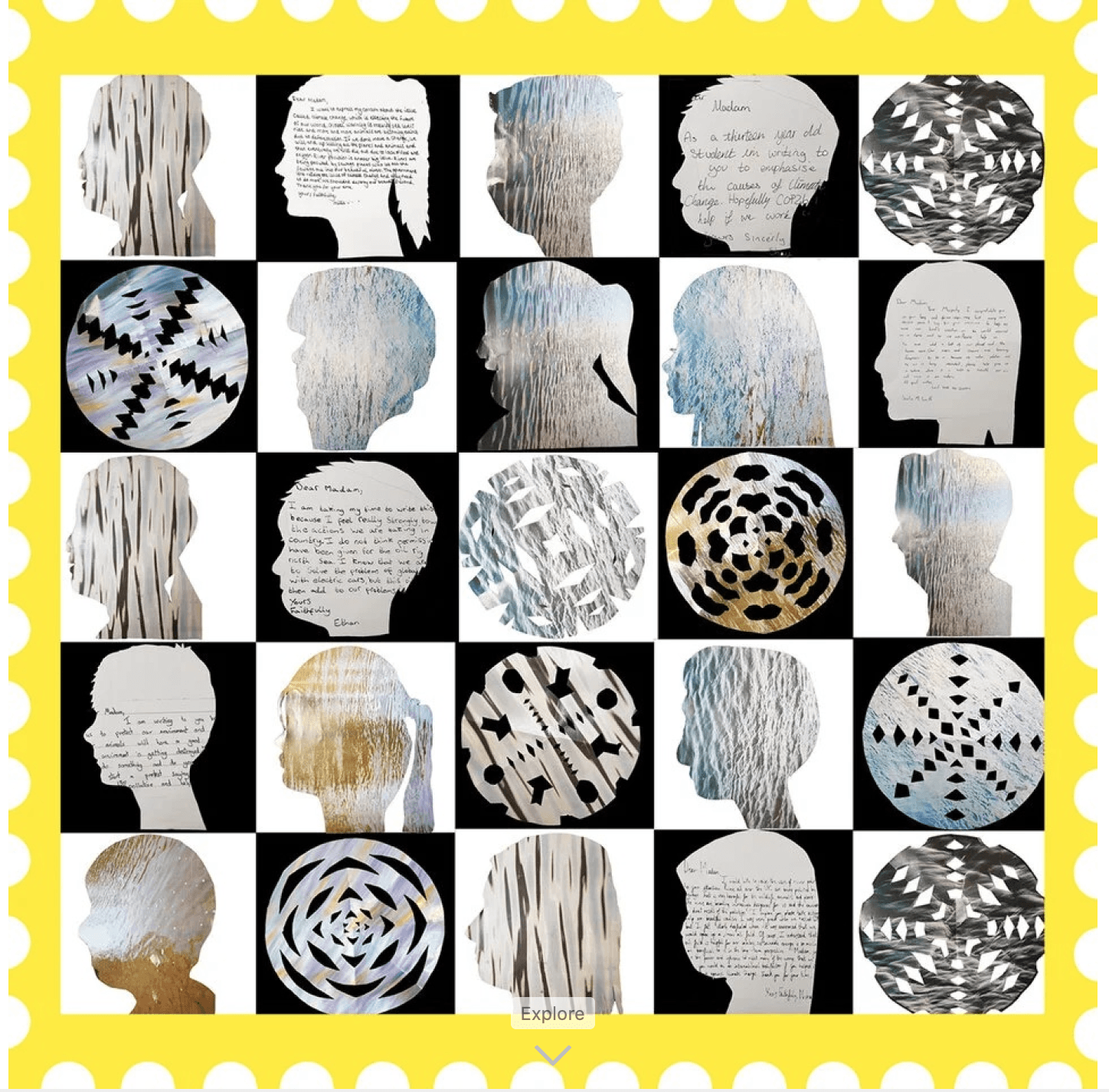 This was designed by the daughter of one of our members, together with her Year 8 class
and won a competition to be included in the Pageant Parade.
Hurrah!
Who is that member? Yet another mystery continues.......
Forthcoming Events
Informal Coffee Mornings
The next Informal Coffee Morning is to be held at the Lawnswood Arms on Tuesday 14th June at 10.30am as before. There is no need to book in advance so do 'Drop-In' if you can.
As the Coffee Mornings continue to be popular we have booked for the second Tuesday in each month over the Summer.
Annual General Meeting
The Annual General Meeting of the Club will be held at the Headingley Golf Club at 2pm on Wednesday 22nd June. To ensure that the meeting starts on time, members are requested to arrive at 1.45pm. A formal invitation will be sent to all members two weeks before the meeting.
Refreshments will be served on arrival and will consist of a choice of tea or coffee together with strawberry tarts.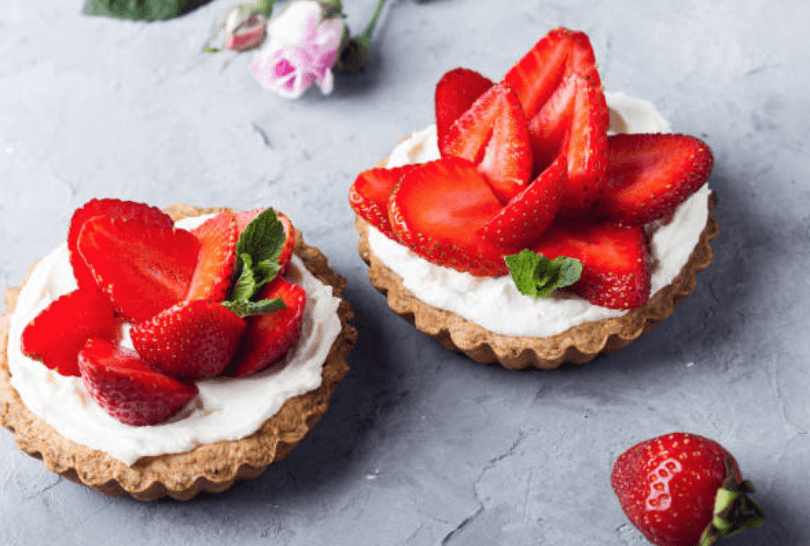 There is no charge for the meeting itself, however we do now have to charge for refreshments as we are ourselves being charged by the Golf Club. The cost of refreshments will be £6 and is payable on the door.
********
Annual Subscriptions
At the recent committee meeting, the issue of the Annual Subscription was discussed.
As members are aware, for the session 2021/22 the committee felt that a reduction of 50% in subscription rate was appropriate because the Club was not then able to meet on a regular basis due to the Covid restrictions and therefore costs were not as high as in a more normal year. It was agreed that this saving should be passed on to members for one year only and that this decision would be reviewed at the end of the academic session 2021/22.
However, with the easing of the Covid restrictions and the recommencing of more normal activities, coupled with the increases in costs for hospitality, postage and printing, it is felt that the subscription rate for the forthcoming year (2022/23) should now return to that of previous years.
It is proposed therefore that the subscription rate for 2022/23 should be £10 per annum.
This item will be raised at the AGM on 22nd June.
********
Book Group 2
As I mentioned in the last newsletter, the book group meeting in April, which was held on the 30th, was too late in the month for any report to be incorporated in the April newsletter so the report of that meeting together with a report of the May meeting are shown below. My thanks to Chris Roy for convening the meetings and for sending such concise and informative reports.
April Report of the meeting of Book Group 2 held on Thursday 28th April 2022
The April book was The Passenger by Ulrich Alexander Boschwitz and thanks to Carole for her summary and introduction. Our opinions were divided on this book with some finding it rather shallow and improbable while others appreciated the creation of tension and the metaphorical nature of Otto Silberman's many train journeys around Germany just prior to World War Two. However, the conclusion of our discussion meant we did have some appreciation of each other's point of view. Some felt that Otto, as a successful businessman and veteran of World War One, came across as unworldly, naïve and foolish in his actions. Others felt that the circumstances in which he was living would explain this. Apparently, this book was a Sunday Times best seller late last year and it became apparent that those of us reading the kindle version had the original unrevised version which also had a different Afterword than the more recent publication. The modern afterword gave far more information about the author and how he had drawn on his own experiences. This led to considerable discussion about the author who had left Germany in 1935 in his late teens. Thanks is due to Val for her valid reminders that we were meant to be discussing the book, not the author. One thing we were all agreed on (again!) is the unsatisfactory nature of the final chapter.
We were sorry to miss Jennifer. Thanks again to Carole for choosing and introducing the book. Thanks, also, to Candy for hosting us.
May report of the meeting of Book Group 2 held on Thursday 26th May 2022
The May book was The Colour by Rose Tremaine, introduced by me so I hope these notes are not too biased. I pointed out that this novel is slightly different from other of Tremaine's historical novels in that there are layers of mystery and myth as well as historical accuracy. I had liked the characterisation in that there was some reason to sympathise with even the weakest (Joseph). Harriet was really the only character to really embrace the new world where the family had hoped to create a new life. There was some interesting discussion arising from whether or not the characters change and even whether it is essential to the success of a novel that there should be change. I had enjoyed the descriptive writing, both of the scenery and of parts of the plot such as the sea voyage and the work of the prospectors. However, some had found these tedious and would have preferred the plot to move more swiftly. The fact that I couldn't decide whether I had found the "supernatural" elements annoying or that I just lacked understanding led to an interesting discussion on whether they pointed to a contrast between civilisations (such as the Māori) who regard themselves as part of "Nature" and our western civilisation which seeks to impose itself on the world with our buildings and tombs. Needless to say, we did not reach a definitive answer! Jean had found an interesting article by a New Zealand reviewer which added an interesting perspective.
Many thanks to Anne (and Alan) for hosting us. The cheesecake and tray bake were delicious.
Garden Group
I received the following from Heather Harrison, the Convenor of the Garden Group and I am pleased that they have been able to meet again in person.
Report of Garden Group meeting: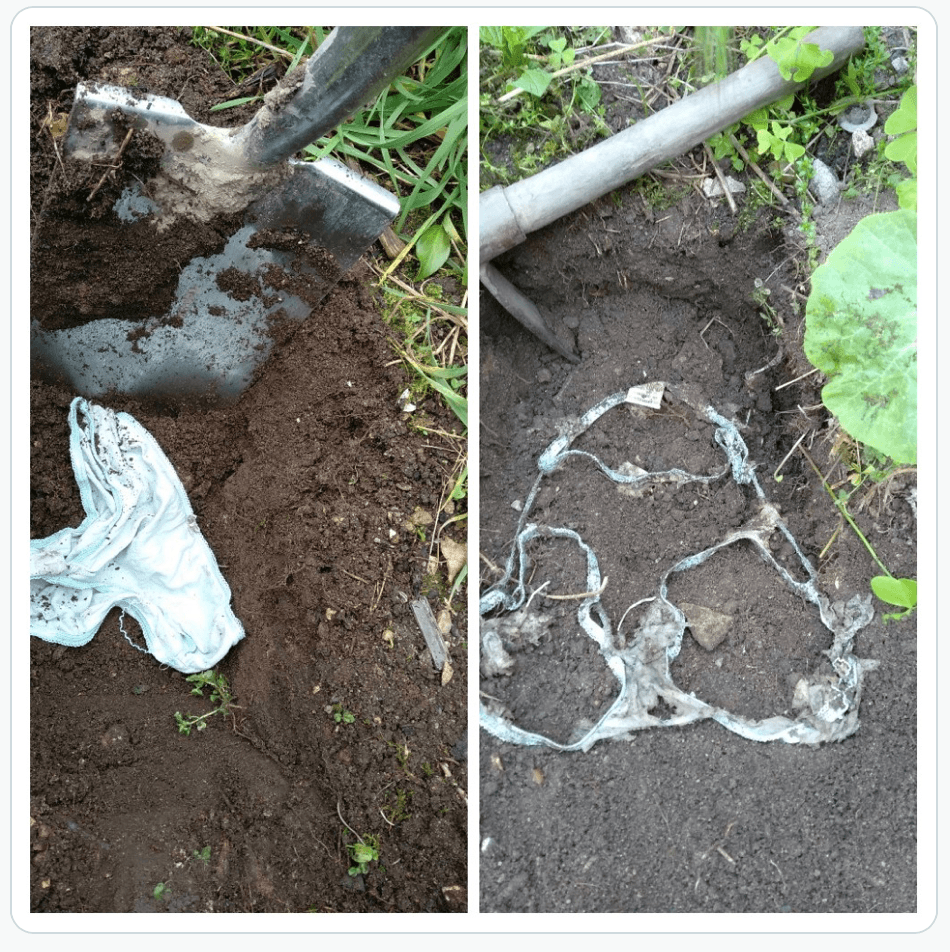 I'm later than ever this time with the Garden Group report but I've little to say, so missing the deadline won't be a huge disappointment! Not much horticultural content . . .
The Garden Group meeting in May was attended by half of the members, many being away on holiday. As it turned out, having a reduced number of attendees was fortuitous. Having discussed a wide range of topics, ranging from the use and benefits of nematodes to the soil testing technique dubbed, "Plant your Pants", it was time for tea. I headed for the kitchen.
Returning to the meeting empty handed I had to announce something reminiscent of, "Please, Miss, the dog ate my homework". After almost four years of fooling me into thinking my dog is not a thief, I discovered that while the meeting was in progress he had helped himself to at least half of the cake I had baked. We managed to cope with the situation by making do with what was left. Had all the group members been present we would have been on very short rations. I shall confine the dog to barracks next time.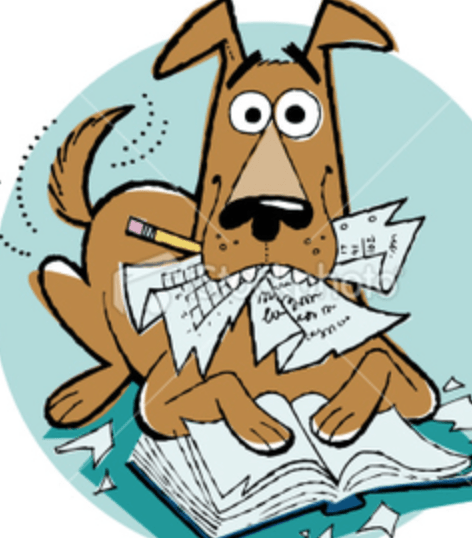 Heather
.
Vale of York Hoard
I have received the following note from Dr. Diana Wetherill concerning the Vale of York Hoard.
I thought you might like to know that yesterday, as I happened to be in York, I went to the Yorkshire Museum to view the Vale of York Hoard. Alas! It is not there! On enquiring, I discovered that it is on loan to the British Museum for the next 18 months and has been there for the last couple of months! I do not remember Prof. Joyce Hill mentioning this.
There is the Rydale Hoard of Roman artefacts to be seen and much else, and of course the Middleham Jewel, if you can find it. We had to ask!
Diana Wetherill
Words of the month
Tabaret A stout silk upholstery having stain stripes and used for furniture.
Wamble The rumbling or growling of a stomach.
Ambivium The spot where two roads meet.
Spatterdash Leather leggings worn to protect clothing from mud when riding.
And Finally
The next newsletter will be sent out on 30th June.
If you have any items for inclusion, please could you let me have them by no later than 28th June.
I hope you have enjoyed reading this newsletter.
Take Care and Keep Safe
Carole